eps1.5_br4ve-trave1er.asf
(Brave Traveler)
Season
1
Episode
6
Airdate
July 29, 2015
Written by
Kyle Bradstreet
Directed by
Deborah Chow
U.S. viewers
1.25 million
Episode guide
"
Zero sum, Elliot. You're playing a game you've already lost.
"

— 20px
"eps1.5_br4ve-trave1er.asf" is the sixth episode of Season 1 of Mr. Robot. It was broadcast on July 29, 2015.
Plot
Synopsis
<@mrrobot>
to save someone
elliot
cares abt, hes gotta hack vera-- badass drug-dealer-- out of jail.
tyrell's
"game" gets crazy.
angela
digs deeper into moms death.
Origin of the Title
In the context of the characters, as Vera explains, "Brave Traveler" is the meaning of his last name, but also how he sees himself.
The extension: .asf is a proprietary audio/video format designed for video streaming.
Episode Notes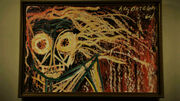 The Patek Philippe Sky Moon Tourbillon watch, which Scott Knowles offers to Tyrell, is a real watch, valued at roughly $1.5 million.
The painting in the opening scene is by Dominican poet and painter Gilberto Hernandez Ortega. Oretga was a surrealist painter considered one of the finest of his generation. He was born in 1923 and died in 1978.
The song used at the end of this episode, "Consummation" by Trent Reznor & Atticus Ross, is also featured in Gone Girl (2014). In both of these instances, it is used in a scene where a character's throat is cut.
Technology
Elliot uses a Multiblue USB Bluetooth dongle on his laptop to type an exploit into the police cruiser.
Music
"Some Velvet Morning". Recorded by Nancy Sinatra (1967), written by Lee Hazelwood. Plays under the opening credits and Elliot's monologue. At the time of its release, it was regarded as a "druggy, psychedelic" song with an undecipherable meaning.
Trivia
Production
Credits
Emma Gordon as Allsafe Employee
Chester Jones III as Bradford
Teodorina Bello as Adalina

Brian Edwards as Patrolman
Stephen Friedrich as Randy Colby
Elijah Richardson as Sammy
Mark Richard Goldman as E Corporate Executive
Caliph Jones as Inmate
Gallery
Promotional