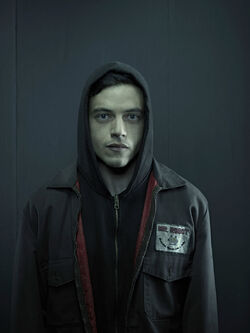 Mr. Robot is an American drama and psychological thriller television series created by Sam Esmail. The series began airing on USA Network on June 24, 2015. The pilot was exhibited at the SXSW and Tribeca Film festivals before its advance release to a variety of online and VOD services on May 27, 2015.
Story
Elliot Alderson is a young cyber-security engineer at Allsafe Cybersecurity in New York City; However, in his free time he's a vigilante hacker. He is recruited by fsociety, a group of black hat hackers led by Mr. Robot, to help take down a large corporate conglomerate, E Corp. E Corp is Allsafe's biggest client as well as responsible for the death of Elliot's father, putting him in a place of divided loyalties.
Influences
Creator Rami Malek speaks candidly about his use of films as influences in the show.
Seasons
Season 1 episode titles are in the form of file names, each ending with an audio/video file extension.
| # | Episode | Writer | Director | Air Date |
| --- | --- | --- | --- | --- |
| 100 | "eps1.0_hellofriend.mov" | Sam Esmail | Niels Arden Oplev | June 24, 2015 |
| 101 | "eps1.1_ones-and-zer0es.mpeg" | Sam Esmail | Sam Esmail | July 1, 2015 |
| 102 | "eps1.2_d3bug.mkv" | Sam Esmail | Jim McKay | July 8, 2015 |
| 103 | "eps1.3_da3m0ns.mp4" | Adam Penn | Nisha Ganatra | July 15, 2015 |
| 104 | "eps1.4_3xpl0its.wmv" | David Iserson | Jim McKay | July 22, 2015 |
| 105 | "eps1.5_br4ve-trave1er.asf" | Kyle Bradstreet | Deborah Chow | July 29, 2015 |
| 106 | "eps1.6_v1ew-s0urce.flv" | Kate Erickson | Sam Esmail | August 5, 2015 |
| 107 | "eps1.7_wh1ter0se.m4v" | Randolph Leon | Christopher Schrewe | August 12, 2015 |
| 108 | "eps1.8_m1rr0r1ng.qt" | Sam Esmail | Tricia Brock | August 19, 2015 |
| 109 | "eps1.9_zer0-day.avi" | Sam Esmail | Sam Esmail | September 2, 2015 |
Season 2 episode titles are
#
Episode
Writer
Director
Air Date
201
"

eps2.0_unm4sk-pt1.tc

"
Sam Esmail
Sam Esmail
July 13, 2016
202
"

eps2.1_k3rnel-pan1c.ksd

"
Sam Esmail
July 20, 2016
203
"

eps2.2_init1.asec

"
Sam Esmail
July 27, 2016
204
"

eps2.3_logic_b0mb.hc

"
Sam Esmail
August 3, 2016
205
"

eps2.4_m4ster_s1ave.aes

"
Kyle Bradstreet
August 10, 2016
206
"

eps2.5_h4ndshake.sme

"
Adam Penn
August 17, 2016
207
"

eps2.6_succ3ss0r.p12

"
Courtney Looney
August 24, 2016
208
"

eps2.7_init5.fve

"
Kyle Bradstreet & Lucy Teitler
August 31, 2016
209
"

eps2.8_h1dden_pr0cess.axx

"
Lor Adana & Randolph Leon
September 7, 2016
210
"

eps2.9_pyth0n_pt1.p7z

"
Sam Esmail
September 14, 2016
211
"

eps2.9_pyth0n_pt2.p7z

"
Sam Esmail
September 21, 2016
Behind the Scenes
Mr. Robot at SXSW and San Diego Comic Con
Video Gallery