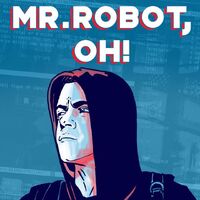 Mr. Robot, Oh!
is an audio podcast, covering
episodes
, news, theories and fan reactions to
Mr. Robot
. The podcast is hosted by Mike Moody, and features journalists, critics and fans discussing Mr. Robot.
Podcasts can be downloaded from Mr. Robot Podcast, iTunes, YouTube or from the table below. The podcast is currently producing Season 1 podcasts. News and updates on Season 2 are in the Season 2 table.
Season 1
Image
Number
Title
Released
Length
#1
A Spoiler-Free Primer
April 4, 2016
13:58
#2
Hello Friend
April 4, 2016
57:14
#3
Ones and Zeroes
April 11, 2016
51:55
#4
Debug
April 18, 2016
51:32
#5
Daemons
April 26, 2016
49:40
#6
Exploits
May 3, 2016
49:04
#7
Brave Traveler
May 11, 2016
46:29
#8
View Source
May 25, 2016
57:25
#9
Whiterose
June 7, 2016
40:05
#10
Mirroring
June 15, 2016
38:11
#11
Zero Day
TBA
TBA
Season 2