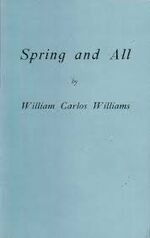 The "Red Wheelbarrow" is a recurring motif throughout Season 2. It is an allusion to a free verse composition by American imagist poet William Carlos Williams. The Red Wheelbarrow is the twenty-second piece in his book "Spring and All", a collection of prose and free-verse poetry published in 1923. The poem was first published without a title.
XXII
 
so much depends upon
a red wheel barrow
glazed with rain water
beside the white chickens.
Allusions
Elliot Alderson documents his perfect loop in a personal journal, which he titles "Red Wheelbarrow". ("

eps2.0_unm4sk-pt1.tc

") A full-length edition of the journal, "

eps1.91_redwheelbarr0w.txt

", was released in November 2016.
Hot Carla burns books in a small red wagon. ("

eps2.0_unm4sk-pt1.tc

")
Tyrell Wellick's father took great pride in his ability to recite the poem in English. Years later, Tyrell uses it as "a reminder of him, and a reminder of what I never want to become." ("

eps2.9_pyth0n_pt2.p7z

")
The elevator operator wearing a white lab jumper in the building where Tyrell Wellick takes Elliot Alderson to, after they reconvene in season 2, episode 12 is eating a sandwich from a bag labelled with the Red Wheelbarrow BBQ logo and name. ("

eps2.9_pyth0n_pt1.p7z

")
The scene in which Angela is returning the package in season 3, episode 5 shows her returning the package to a "delivery man" who appears to be the same white jumpsuited "lab tech" seen in season 2, episode 12, and is once again, eating food from packaging labelled with the red wheelbarrow motifs. He takes the package from Angela, and hands her a neatly folded, closed red wheelbarrow bag. It contains something but the contents are not revealed during the following scenes.
Tyrell leaves a coded message for Mr. Robot on a menu brochure for Red Wheelbarrow BBQ. ("

eps2.9_pyth0n_pt1.p7z

")
Trivia
At the 2017 San Diego Comic Con, USA Network set up an "off-site" feature promoting Mr. Robot. The off-site included a Bank of E branch, which distributed "E-coin" cards to visitors. The cards could be used to purchase food at a nearby Red Wheelbarrow BBQ.